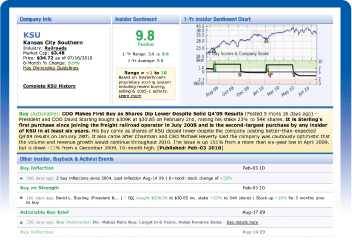 Company-specific idea generation and monitoring
with Research Brief Tearsheets
Real-time access to our best long and short ideas, including details on:
Insider: statistically notable buying and selling events including our proprietary 10b5-1 Monitor

Buyback: annual summaries plus all quarterly updates and revisions
Institutional: hedge fund top owners, exposures and trends

Actionable Commentary: keying in on the best long ideas and most significant red flags
Research Briefs have outperformed across sector and market cap groups
We started publishing Research Briefs in June 2008, covering all sectors and market caps. We're confident Research Briefs will direct you to alpha-generating ideas. See the performance metrics below:
Relative performance is versus the associated sector ETF. Percent winner column is based on the number of relative returns that were positive. Past performance is not a guarantee of future returns - data as August 26, 2010.
Special reports covering institutional filers, insider trends and more
Institutional ownership highlights:
Stay on top of the actions of popular institutional investors with our quarterly Research Reports covering Tiger Cubs, Value Investors, S&P 500 Money Flows and more.
Conference preparation materials:
We'll highlight pertinent questions about insider conviction levels and management follow-through for you to ask during your one-on-ones and breakout sessions.
Coverage of macro- and sector- insider trends:
We'll publish reports when insider buying/selling reaches notable levels. For example, when insider buying levels hit extreme levels in March 2009 and when we saw a spike in retailer selling in April 2009. Reports typically include company-specific ideas.
Management meeting preparation and custom research requests:
You'll have direct access to our research team (depending on your subscription level). Work with our team to:

Research company- and sector-specific activity: from questions about specific filings to overall analysis of the insider sentiment at any company or sector.

Prepare for Management Meetings: we'll review the recent insider, buyback and institutional activity to identify potential red and green flags, including questions we'd ask management.

See this example for a client attending the JPM Healthcare conference:

HealthSpring (HS): HealthSpring (HS): Chairman and CEO Herbert Fritch, the company's largest shareholder, adopted a Rule 10b5-1 trading plan in May 2008 and sales under the plan began in September 2008. There was a dramatic acceleration in the pace of sales in late December/early January after the stock rallied back to $20.00, which evidence suggests is the minimum trigger price for Fritch's sales. Did Fritch amend his Rule 10b5-1 trading plan after the stock declined dramatically in November/December 2008 and will the sales continue at a pace greater than that originally seen when the plan kicked in September 2008?
| | |
| --- | --- |
| Learn more - Sign up for a trial using the button to the right | |
Disclaimer:

The information herein is based on sources we believe to be reliable but is not guaranteed by us and does not purport to be a complete or error-free statement or summary of the available data. Using proprietary software we filter, prioritize and score data, we do not guarantee the accuracy or completeness of our software. As such, we do not warrant, endorse or guarantee the completeness, accuracy, integrity or timelines of the information. You must evaluate, and bear all risks associated with, the use of any information provided hereunder, including any reliance on the accuracy, completeness, safety or usefulness of such information. This information is not intended to be used as the primary basis of investment decisions. It should not be construed as financial or other advice or as an offer to sell or the solicitation of an offer to buy any security in any state where such an offer or solicitation would be illegal. Any information expressed herein on this date is subject to change without notice. Any opinions or assertions contained in this information do not represent the opinions or beliefs of InsiderScore, LLC. One or more of its employees, including the writer of this report, may have a position in any of the securities discussed herein. Use of the InsiderScore service including the reading of this document, signifies your agreement to the Terms of Use.

THE INFORMATION PROVIDED TO YOU HEREUNDER IS PROVIDED "AS IS" AND TO THE MAXIMUM EXTENT PERMITTED BY APPLICABLE LAW, INSIDERSCORE, LLC AND IT LICENSORS, BUSINESS ASSOCIATES AND SUPPLIERS DISCLAIM ALL WARRANTIES WITH RESPECT TO THE SAME, EXPRESS, IMPLIED AND STATUTORY, INCLUDING WITHOUT LIMITATION ANY IMPLIED WARRANTIES OF MERCHANTABILITY, FITNESS FOR A PARTICULAR PURPOSE, ACCURACY, COMPLETENESS AND NON-INFRINGEMENT. TO THE MAXIMUM EXTENT PERMITTED BY APPLICABLE LAW, NEITHER INSIDERSCORE, LLC NOR ITS OFFICERS, MEMBERS, DIRECTORS, PARTNERS, AFFILIATES, BUSINESS ASSOCIATES, LICNESORS OR SUPPLIERS WILL BE LIABLE FOR ANY INDIRECT, INCIDENTAL, SPECIAL, CONSEQUENTIAL OR PUNITIVE DAMAGES, INCLUDING WITHOUT LIMITATION DAMAGAES FOR LOST PROFITS OR REVENUES, GOODWILL, WORK STOPPAGE, SECURITY BREACHES, VIRUSES, COMPUTER FAILURE OR MALFUNCTION, USE, DATA OR OTHER INTANGIBLE LOSSES OR COMMERCIAL DAMAGES, EVEN IF ANY OF SUCH PARTIES ADVISED OF THE POSSIBILITY OF SUCH LOSSES, ARISING UNDER OR IN CONNECTION WITH THE INFORMATION PROVIDED HEREIN OR ANY OTHER SUBJECT MATTER HEREOF.

The contents and appearance of this report are Copyrighted INSIDERSCORE LLC, 2018. InsiderScore is a trademark and service mark of InsiderScore, LLC. All other trademarks mentioned are trademarks of their respective companies. All rights reserved.