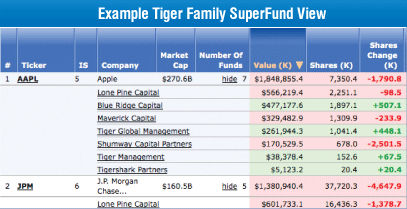 SuperFunds include the total value held by all funds and break out
investor-level details
InsiderScore's SuperFund functionality is the easiest way to track multiple hedge funds and 13F filers in one simple view. Use SuperFunds to:
Analyze the quarterly buying / selling trends at your favorite funds, peers and competitors

Understand where specific style boxes (for example, Quant Funds) and sector-focused funds (for example, Healthcare) are making their biggest bets and taking profits
Stay on top of the action with our quarterly Research Reports covering Tiger Cubs, Value Investors, Activists, S&P 500 Money Flows and more

Use our fund screener to identify funds you should be tracking;
find funds that share similar sector exposures and focus
Monitor institutional ownership in your Watchlist and generate long / short ideas
Monitor hedge fund ownership and avoid crowded trades
Cross reference your portfolio holdings with hedge fund ownership to avoid crowded trades and to identify potential partners.
Real-time monitoring of 13D and 13G filings
Utilize our institutional Unusual Event Alerts to monitor the latest 13D (activist) and 13G (passive) activity at your companies.
Fund ownership screening
Screen over your investment universe to see which companies have the largest accumulation and distribution by hedge funds, mutual funds and other institutional investors.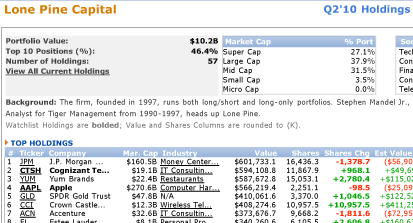 Review fund- and company-level holdings with Institutional Tearsheets
Generate one-page PDF reports on fund- and company-level activity. Reports are generally sent within hours of a 13F being filed and include:
The largest holdings, including the largest increased and decreased positions for the quarter
Multi-quarter trends to identify companies that funds have been
aggressively buying or selling over the past four quarters

Put / Call / Debt positions to understand the fund's overall
ownership, including any potentially hedged positions
| | |
| --- | --- |
| Learn more - Sign up for a trial using the button to the right | |
This site uses cookies to store information on your computer to improve your experience and to make the site work.
By using the site, you consent to the placement of these cookies
– see more in our
Privacy Policy
.
Disclaimer:
The information herein is based on sources we believe to be reliable but is not guaranteed by us and does not purport to be a complete or error-free statement or summary of the available data. Using proprietary software we filter, prioritize and score data, we do not guarantee the accuracy or completeness of our software. As such, we do not warrant, endorse or guarantee the completeness, accuracy, integrity or timelines of the information. You must evaluate, and bear all risks associated with, the use of any information provided hereunder, including any reliance on the accuracy, completeness, safety or usefulness of such information. This information is not intended to be used as the primary basis of investment decisions. It should not be construed as financial or other advice or as an offer to sell or the solicitation of an offer to buy any security in any state where such an offer or solicitation would be illegal. Any information expressed herein on this date is subject to change without notice. Any opinions or assertions contained in this information do not represent the opinions or beliefs of InsiderScore, LLC. One or more of its employees, including the writer of this report, may have a position in any of the securities discussed herein. Use of the InsiderScore service including the reading of this document, signifies your agreement to the Terms of Use.
THE INFORMATION PROVIDED TO YOU HEREUNDER IS PROVIDED "AS IS" AND TO THE MAXIMUM EXTENT PERMITTED BY APPLICABLE LAW, INSIDERSCORE, LLC AND IT LICENSORS, BUSINESS ASSOCIATES AND SUPPLIERS DISCLAIM ALL WARRANTIES WITH RESPECT TO THE SAME, EXPRESS, IMPLIED AND STATUTORY, INCLUDING WITHOUT LIMITATION ANY IMPLIED WARRANTIES OF MERCHANTABILITY, FITNESS FOR A PARTICULAR PURPOSE, ACCURACY, COMPLETENESS AND NON-INFRINGEMENT. TO THE MAXIMUM EXTENT PERMITTED BY APPLICABLE LAW, NEITHER INSIDERSCORE, LLC NOR ITS OFFICERS, MEMBERS, DIRECTORS, PARTNERS, AFFILIATES, BUSINESS ASSOCIATES, LICNESORS OR SUPPLIERS WILL BE LIABLE FOR ANY INDIRECT, INCIDENTAL, SPECIAL, CONSEQUENTIAL OR PUNITIVE DAMAGES, INCLUDING WITHOUT LIMITATION DAMAGAES FOR LOST PROFITS OR REVENUES, GOODWILL, WORK STOPPAGE, SECURITY BREACHES, VIRUSES, COMPUTER FAILURE OR MALFUNCTION, USE, DATA OR OTHER INTANGIBLE LOSSES OR COMMERCIAL DAMAGES, EVEN IF ANY OF SUCH PARTIES ADVISED OF THE POSSIBILITY OF SUCH LOSSES, ARISING UNDER OR IN CONNECTION WITH THE INFORMATION PROVIDED HEREIN OR ANY OTHER SUBJECT MATTER HEREOF.
The contents and appearance of this report are Copyrighted INSIDERSCORE LLC, 2019. InsiderScore is a trademark and service mark of InsiderScore, LLC. All other trademarks mentioned are trademarks of their respective companies. All rights reserved.