We Process All Management Changes in 8-Ks, Form 3s, 10-Ks, 10-Qs, and More
About The Dataset
Active Coverage
4,000+ Companies
CEO Changes
25,000
Director Changes
160,000
Officer Changes
90,000
Total Changes
300,000+
We typically process a company's history back to 2004
Management Change Datafeed
History back to 2004
Nearly 40 data points per Management Change
Frequency is customizable
Monitor Existing Holdings:
Streamline due diligence with detailed company histories and CEO / CFO / Board timeline charts
Isolate impactful Management Changes with our robust screener
Customize PDF reports and have changes pushed directly to you via email
Be alerted to companies with multiple officer/director hires/departures in your InsiderScore recap
Manage board-level and executive gender diversity and tenures
Build Detailed Screens to Find New Ideas:
CFOs leaving after less than a year in the role
Departures by officers in Sales, Revenue, Technology, and other specific-roles
'Unplanned' CEO departures where the Effective Date is very close to the Disclosure Date
Auditor changes and tenures
Excel Library: Build on Our Core Templates for Advanced Analysis
Board and Governance:

Screen companies by CEO/CFO tenure, gain insight into overall director tenure, diversity, turnover and more. Output includes important CEO, CFO, Board, and Auditor details.

New CEOs:

Analyze all CEO changes within the last year; highlighting companies with notable insider, buyback, officer/board turnover, and 13D activity AFTER the New CEO started.

Example of our New CEO Excel Template
Custom Reports – Important Management Change Screens Sent Via Email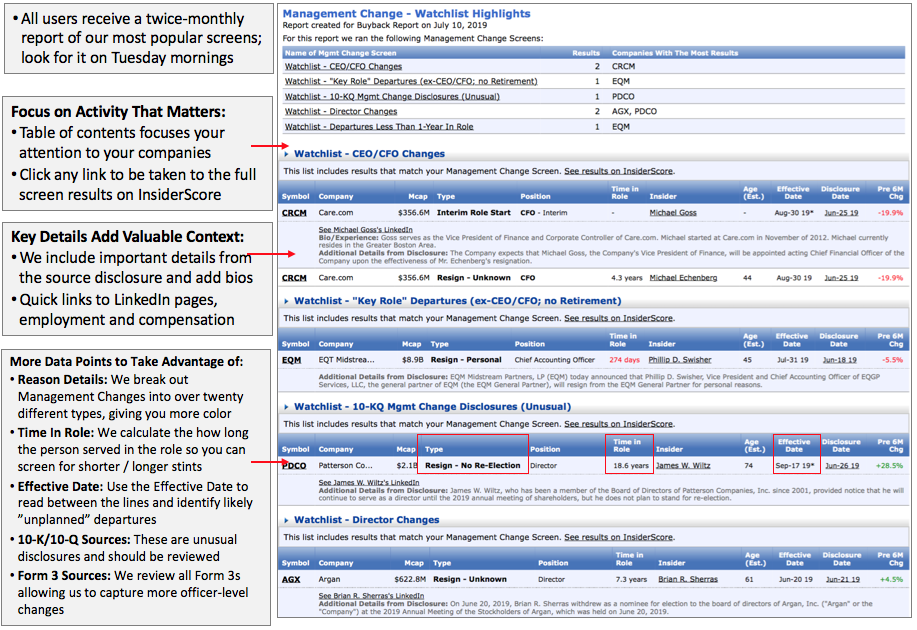 Supercharge Your Management Change Workflow Today